The best way to learn about Engineering is by doing something!
ALSO – Check out what's new in the engineering everywhere links. New links are added frequently.
Here are some hands-on activities that anyone can do. Some include instructions for using these activities in a classroom or group. Many of the activities you can do at home. For some, you may need a grown-up to help. All these activities are Engineering!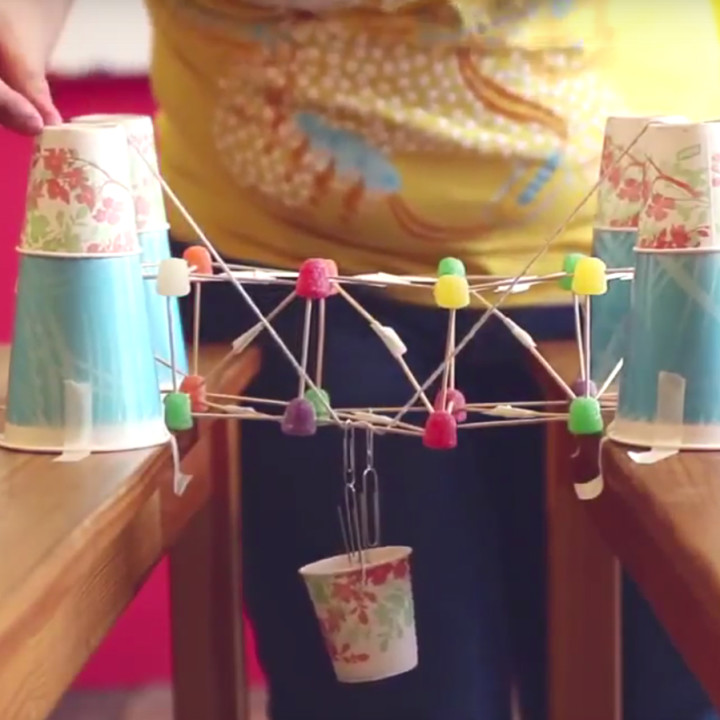 Build a suspension bridge that spans 10 inches and can hold at least 15 pennies!"
Design and build a shock-absorbing system that will protect two "astronauts" when they land. In this challenge, kids follow the…
Do It Yourself Science Do you know that you can use common things found in your house or classroom to explore science? You don't need f…
"Back to SchoolCard engineering invitationDesign BriefGuided PortfolioRubricThis card engineering activity would be an excellent way…
Who might need an emergency shelter—and why? People seeking shelter could include hikers, campers, homeless people, or people caught in…
Simple Small Marshmallow Catapult – 9 craft sticks. 4-6 rubber bands 1 plastic spoon simple design. easy to follow. plenty of…
The Romans used waterwheels as far back as the 4th century AD. The most popular application is at mills, grinding grain into flour. To sh…
"Set up the simple machines stations. At each station, have the following materials available for the sensory observation. Wheel and…
a minute to win it party you'll need to choose a selection of minute to win it games for the challenges. The great thing about minute t…
example Kitchen Kapers In this design challenge students will work in teams to create a brand new kitchen utensil using a limited set of…
LEGO games are widely used among young learners to help them develop key learning skills. More and more primary teachers are using them i…
Using 10 gumdrops and 20 toothpicks, design a structure that can hold the weight of a large textbook.
engineering challenge comes in. Experiment with some of your variables to see what effect it has on your rocket. Try varying the amount…
A dam is a structure that stops a river from flowing. Can you build one out of popsicle sticks and small rocks?
Real Hovercrafts use a powerful fan to pump air underneath themselves. Hovercrafts can travel over air and water as they move on top of a…
Now more than 100 engineering projects
sheet of foil and a few drinking straws. Their challenge is to create a foil boat that is no larger than 6 X 6 X 6. The boats have to flo…
challenges teach so many things. critical thinking problem solving teamwork how things work how materials behave in different…
1. Build a structure that will hold a book 6 inches off the ground. 2. Build a structure that will hold and egg 2 feet off the ground. 3….